KARL'S BOAT SHOP, Inc.
50 Great Western Road
Harwich, Cape Cod, MA 02645
Phone: (508) 432-4488

FAX: (508) 432-7645


Karl Anderson

"We win races...
You can, too!"

Return to Home Page.


| | |
| --- | --- |
| | Beginning Fall haulout |
Our year-'round services for sailboats let you to focus on enjoying your boat, and help you win races.

We'll take care of everything!
Haul your boat in the Fall
Unstep the mast(s)
De-rig the boat
Pressure-wash the bottom
Make repairs as needed --
woodworking, fiberglass, mechanical, electrical
Make major and minor improvements to enhance racing performance
Shrink-wrap boats for outside storage, or provide inside storage
Prepare the boat for Spring launch
Haul to the water and launch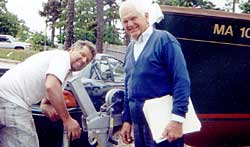 Preparing to haul a boat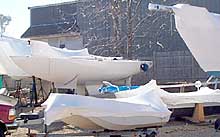 Shrink-wrapped boats stored in our yard
We'll do it all for you, or we'll do less if you need less.
Let us know!

Return to Home Page.
Top of Page.
© 2005-2012 Karl's Boat Shop - All rights reserved.
http://www.KarlsBoatShop.com